About Tutto Bene
Our goal is to provide our guests with an experience that will leave them with the sense of being appreciated and no longer hungry.
We provide a "from scratch" approach in the kitchen with our food by using Italian influenced ingredients and techniques. We will also infuse local ingredients and heritage while paying attention to the season's that embrace us throughout the course of the year. Service provided will be knowledgeable and friendly as such from anticipating our guest needs to suggesting a pairing of wine or a spirit to enhance their experience.
"Getting back to the roots"
The scope of our business hours will include lunch, dinner and weekend brunch catering to everything from a light brunch before weekend activities to receptions for business to family and friends getting together.
Our aim with our community is to be a part of the ongoing commitment to growth and improvement for all. Knowing there is strength in numbers a community based approach to business and guest interactions will be a step in the right direction.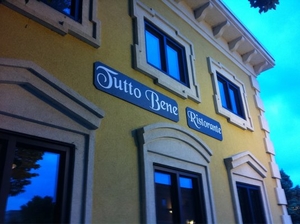 Local Partners... Local Farmers... Getting back to our roots...
To get back to our roots with food we have partnered with local farmers in Bemidji. This means you get the wholesome taste and freshness of the local area. We value supporting the local community as well as bringing in local food to influence our menu.